Thales' New Long-Range Surveillance Drone 'UAS 100' Completes First Flight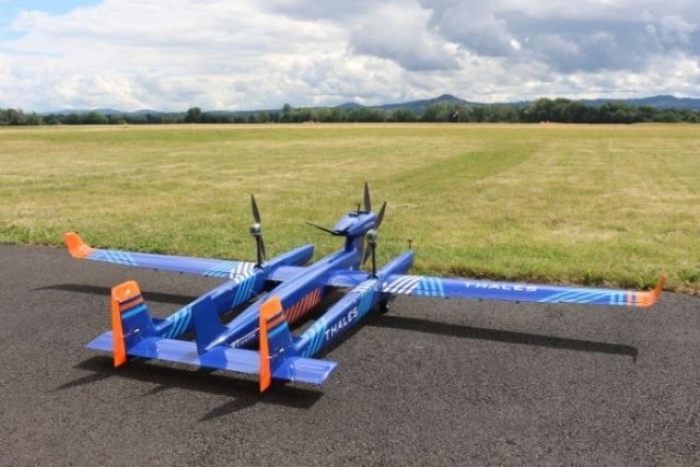 Developed in partnership with Issoire Aviation and Hionos, and with the support of the French Ministry of the Armed Forces via the Defense Innovation Agency (AID), UAS100 will help meet demand for more cost-effective drone missions with a lower environmental impact.

Continued testing with the half-scale vehicle will progress to conducting automatic beyond line-of-sight (BVLOS) operations.

Thales told reporters during a Videoconference on Tuesday that it will demonstrate the fully autonomous aircraft at the UAV Show to be held on October 21 at Bordeaux, France. Final version of the drone is expected to have a range of about 200km. Full scale aircraft will make its maiden flight in the second half of 2022.

The drone will have a wingspan of 5.4m and will be able to carry a payload of 10kg. The UAS 100 has short take-off performance, requiring "much less than a football pitch" to get airborne.

From infrastructure inspection, coastal surveillance, border surveillance and event security to search-and-rescue and military operations, UAS100 will meet mission requirements while operating in full compliance with general aviation regulations. Its flight avionics combine the certified levels of flight safety and security of Thales's solutions for the aerospace sector with the low weight and compact design needed for integration on board a light UAV.

The UAS 100 system will offer range capabilities in excess of 100 km and its jam-resistant navigation system will ensure safe operation even in dense or cluttered electromagnetic environments. It is powered by two electric motors as well as an internal combustion engine, guaranteeing the discretion needed to accomplish its missions and operate over populated areas, while ensuring the necessary endurance and resilience to failure. According to Thales, the three engines provide the drone with 5 hours of autonomy.

With a level of system redundancy and security unmatched on the light UAS market today, the Thales solution will natively meet the requirements of the new European SC-LUAS (Special Condition - Light Unmanned Aircraft Systems) regulations. The system will reduce operating costs and improve the environmental footprint of drones, opening up new opportunities for inspection and surveillance operations and expanding the capabilities of government services and the armed forces.
Similar news